Today is a perfect day to participate in Miscellany Monday, so that's just what I'm going to do!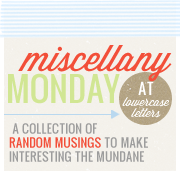 ~1~
Our Family Home Evening lesson on The Plan of Salvation went well. During the lessons everyone helped put together this poster I had colored and cut pieces out for ahead of time.
Then they got to work on creating their own. Some don't really like to color but love the gluing together part.
Others love to color.
And cut out.
And make faces while working.
It takes all kinds, right?
~2~
Today's homeschooling is done and went rather well for a Monday morning. Everyone worked cheerfully, new lessons were begun in math and writing, and Caleb was content to play in the dining room while we worked. We also read two more chapters in Peter and the Starcatchers – it's really good!
~3~
I have officially decided time needs to slow down. Tomorrow is November! I am NOT ready for Caleb to turn 1 in November. It doesn't seem like a whole year has passed since he looked like this:
But now he looks like this:
And to think I'll have another little man born in less than 12 weeks is a bit daunting. Where does the time go?
~4~
I love my Kindle. Really, who doesn't love a great big library shrunk down into one itty bitty device that is as thin as a pencil? Now if only it were inexpensive to replace some of the regular books I have on my shelves with the Kindle format. For example, I love The Work and the Glory series enough that the books are falling to pieces quite literally. To replace the whole set (9 books) will cost me almost $90.00 ($9.99 a book). Sigh. I think for Christmas I'll be replacing some that are in the worst shape, but not all of them. There are several with no spine that are also missing a front or back hardcover as well. They'll be first on my list.
~5~
Dinner needs cooked soon and unfortunately that means I need to go wash up the muffin pans from lunch. Corralling children to unload the dishwasher is also in order, so it's time to get moving.
What miscellaneous things are on your mind this Monday?